Wed 01 November 2023
CIAN DUCROT
Venue : Rockhal Club - Standing Doors : 20:00 Support : ANSON SEABRA
Promoter : Rockhal
From 29.70 €
Practical Info
Doors :
20:00
Show :
20:30
Doors: 20:00
Anson Seabra: 20:30
Cian Ducrot 21:30
About
Cian Ducrot at Rockhal: A Captivating Concert Experience
Join us on the 1st November for an enthralling show with Cian Ducrot as he takes the stage at the renowned Rockhal concert venue. Known for his evocative voice and heartfelt songs, Cian Ducrot's live performance is an event you won't want to miss. He is an incredibly talented singer-songwriter and multi-instrumentalist from Ireland. He has quickly gained a dedicated following thanks to his emotionally resonant lyrics and unique sound. Don't miss the chance to witness this rising star perform live at Rockhal!
About Cian Ducrot
Cian Ducrot, born on August 30, 1997, has already made a name for himself in Ireland and throughout the United Kingdom. With his viral success on TikTok, his single "All for You" reached second place on the Irish charts and was certified gold in the UK, before being re-recorded as a duet with Ella Henderson ("Hurricane" with Ofenbach). In 2022, he was the opening act for Henderson's tour.
His follow-up single, "I'll Be Waiting," achieved sixth place in sales in his native Ireland. With over 100 million streams and an audience of more than a million users on TikTok, Cian Ducrot's career has started with a bang, and all that remains is a full-length album to solidify these promising beginnings.
Cian Ducrot joined Ed Sheeran's mini European tour as the opening act, further cementing his status as an emerging talent in the music industry.
Secure Your Tickets for Cian Ducrot's Concert at Rockhal
Don't miss out on the opportunity to see Cian Ducrot perform live at Rockhal on the 1st November. Grab your tickets now and get ready for a mesmerizing musical experience.
A Liveurope concert: the first pan-European initiative supporting concert venues in their efforts to promote emerging European artists. 
Liveurope is co-funded by the Creative Europe programme of the European Union.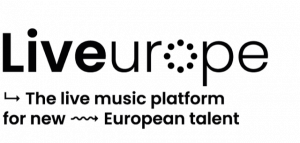 Artist links