Mon 06 November 2023
DEATHSTARS
[TEMPLE OF METAL]
Venue : Rockhal Club - Standing Doors : 19:00 Support : PRIEST + LIV SIN
Promoter : Rockhal
From 27.50 €
Practical Info
Doors :
19:00
Show :
19:30
About
Immerse yourself in the powerful rhythms and dark melodies of Deathstars Rockhal performance, with support from Priest and Liv Sin!
Rockhal Luxembourg is thrilled to welcome the iconic Swedish industrial cult act, Deathstars, on November 6th, as they return to the stage with their latest sonic output, "Everything Destroys You." This long-awaited comeback, featuring everything fans love about Deathstars – adrenaline, bombast, sex, and glam – will be supported by the talented Priest as the main support act, and the captivating Liv Sin as the opening act, making for an unforgettable night of music!
Experience amplified anguish, destructive urban party nights, dystopia, and slick glamour, all combined in Deathstars' diverse musical spectrum that spans from electric, lightning-ridden highways of fun, action, and adrenaline to darkness and jet-black humor. With Priest's unique blend of electronic and dark synth-pop sounds and Liv Sin's powerful metal prowess, this concert promises to deliver an electrifying experience you won't forget.
Nightmare Industries, the guitarist of Deathstars, reveals that the reason for the long wait was the need for a break after intense touring, followed by the pandemic, which led to postponed tours and releases. Vocalist Whiplasher adds, "This album is more of an outgoing piece and feels well calibrated when it comes to illustrating the band's world for the last years."
The band comments: "We're very excited to announce the Everything Destroys Europe tour. After postponed and cancelled tours we will finally be able to see you all again on the road. These upcoming shows will be something special for us and hopefully for you too. See you there!"
A Liveurope concert: the first pan-European initiative supporting concert venues in their efforts to promote emerging European artists. 
Liveurope is co-funded by the Creative Europe programme of the European Union.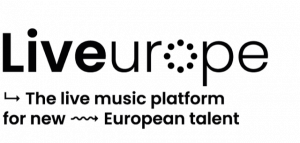 Artist links